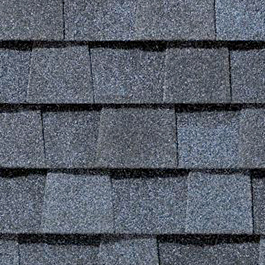 Asphalt Shingles
A beautiful roof makes a beautiful home. If you are looking for a shingle with staying power, your search stops here. When it comes to weathering the elements, this extra touch 30 to 50 year shingle is at the top of its class. This product meets ENERGY STAR requirements.
XT 30 is the heaviest fiberglass shingle in it's class for long life & durability
Beautifully colour-blended line of shingles and the widest array of colours to suit any trim, stucco or siding
Exceptionally strong shingles with unrivaled tear strength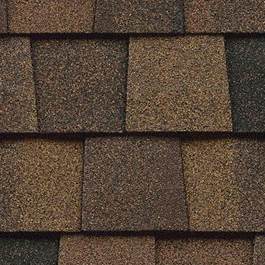 Cedar Fiberglass Shingles
Cedar Shake Shingles. For homeowners who do not shy from imitations, the look of cedar shake shingles kept with alternatives composite products such as vinyl cedar shake shingles and others. They are also environmentally friendly; they even contain cedar wood shavings and other materials that protect them from UV degradation. These high quality products can easily last as long as 20 to 50 years. In fact, without any maintenance, fiberglass cedar shake shingles and other composite alternatives have 50 year warranties. Get in touch with us for more details about warranty coverage.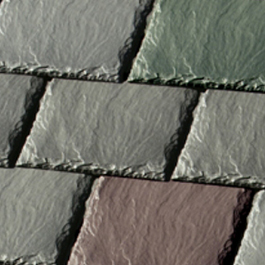 Composite Slate Shingles
Composite Slate-technology in tune with the natural surroundings Composite slate shingles are a masterpiece of synthetic slate design with lasting qualities of tooled craftsmanship, natural beauty, and harmony. This product is a specially-engineered composite roofing shingle that mimics the appearance and impression of natural slate, but is lighter, more resilient and a fraction of the price. This product line has earned the designation as an ENERGY STAR Qualified Product, a brand given to products that use less energy, save money and aid in protecting the environment.
Impact Resistant
Excellent weathering capabilities for long life, combined with outstanding UV fade-resistant surface technology for advanced colour stability
Available in either pre-blended 12″ bundles or pre-blended multiple width bundles consisting of pre-sorted 6, 9 & 12″ tiles
Available hip & ridge accessory to harmonize shingles and increase the slate-inspired look of the roofline
Thicker nominal 1/2″ profile for a richer, more beautiful exterior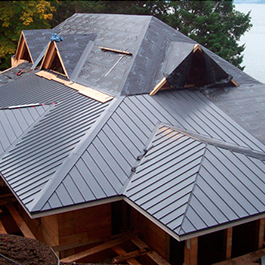 Metal Roofing
Metal roofing is possibly the most resilient material for your roof; it does not deteriorate with exposure to the elements, such as the sun's rays or heavy rain. Metal roofing is especially strong because it is coated with a metallic finish of either Zinc or Aluminum, which makes it resistant to rust. Metal roofing has a 170km an hour wind rating, which means that it can withstand even an F2 tornado. Furthermore, a metal roof will reflect heat efficiently such that it insulates during the winter and cools during the summer. When it comes to extreme weather, metal roofing will NOT increase the chance of being struck by lightning. In fact, if struck, it will be able to spread the electrical currents safely over the roof without it penetrating into the house. The metal roof is also non combustible and non flammable, so you have a low risk of receiving damage to your house in such conditions.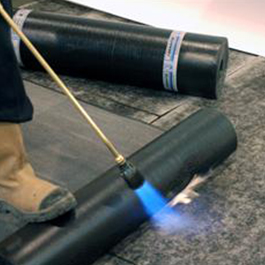 SBS 2 Ply Torch-On
SBS 2 Ply Torch On roofing systems are available on pitched and flat roof buildings. Torch-On roofs are made up of layers of fiberglass and polyester with bitumen that are added to the tar and gravel layering system. The origin of the name comes from the next step in the process: the extra sheets are torched on during the installation process using large flame-throwing torches that melt the asphalt at the seams to link them together. The final effect is the vulcanization of a large rubber sheet onto a fiberglass base. Due to this unique installation process, torch-on roofs offer extra durability and resistance to a flat and sloped roof. With the proper maintenance, sbs torch on roofs can last up to 20 years and more. In Awe Roofing offers regular inspections and proper roof maintenance intended to extend the useful life of your roof. Avoid common problems that can result in the need to replace the entire roof.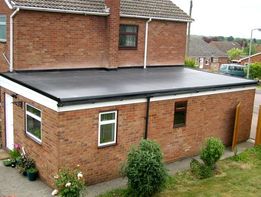 Flat Roofing
A flat roof is a nearly horizontal roof with just enough pitch to allow for water drainage. There are several different types of flat roofs, all of which require regular maintenance, repair and eventually replacement. On the other hand, if well taken care of by a flat roofing contractor, a flat roof should have a span duration of approximately 25 years. In Awe Roofing specializes in re-roofing and repairing flat roofs for residential and commercial buildings. We service all types of flat roofs including multiple-ply, TPO, PVC, and EPDM, single-ply membranes, and green roofs. To guarantee a long life for any flat roofing system, we advise proper maintenance for all types of flat roofs. This includes removing free and embedded fragments, removing brushwood and moss, clearing drains and inspecting seams, connection points, flashings and penetrations for any damage. Not every flat roof needs to be re-roofed. We only recommend re-roofing if the roofing system has failed, or if it is incorrectly installed the first time around. If you own a home or building with a flat roof, In Awe Roofing will assess the roof and decide whether it needs complete re-roof work or regular maintenance and repairs. At In Awe Roofing, we specialize in re-roofing and repairing flat and low slop roofing systems.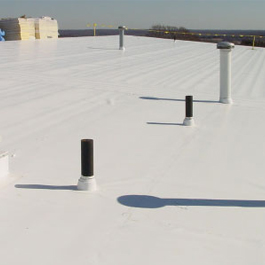 TPO Thermoplastic Polyolefin
TPO single-ply roofing membranes systems are one of the fastest growing commercial roofing products. Because of their performance and installation advantages it has gained broad industry acceptance. In recent years the demand for heat reflective energy efficient systems has been in high demand, that's why systems such as TPO single ply have taken off. The membrane also provides exceptions resistance to ultraviolet, and ozone chemical exposure.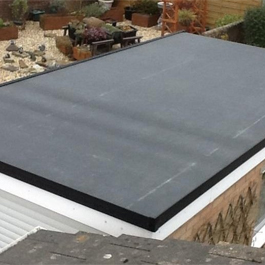 EPDM
EPDM is an extremely durable synthetic rubber roofing membrane (ethylene propylene diene terpolymer) that is widely used on low-slow building. It's two primary ingredients – ethylene and propylene are derived from oil and natural gas. Available in both black and white and a wide selection of widths ranging from 7.5 feet to 50 feet in both 45 and 60 mil thicknesses. EPDM can be installed either fully adhered, mechanically attached or ballasted, with the seams of the roofing system sealed with liquid adhesives or specially formulated tape.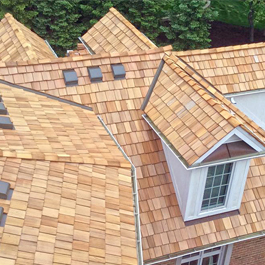 Cedar Shakes & Shingles
Wood Shingle and Shakes
Wood shingles that are rustic and coarse are called shakes. They come in varying sizes and lengths of 16, 18 and 24 inches. Nailing wood shingles is finished in a way that enables air flow, while shakes are laid so that they form a tight surface. Both methods are devised to ensure durability and withstand decay. Treatment of wood shingles and shakes can slow down natural weathering processes; though expect a ¼ inch or more to be lost over the period of a century. Keep in mind that wood shingles and shakes are easy to repair and treat.
Natural Wood
Cedar roof products are durable, beautiful, and an environmentally sound choice. The look cedar shakes and shingles provide is timeless and classic. We use number 1 clear heartwood.
Hand Split and Re-Sawn Shakes
This high quality shake features a rough split face and sawn back. Very popular on traditional, ranch, historical, vacation homes and non-residential structures, these shakes are designed to blend with a natural and rustic setting.
Taper-Sawn Shakes
Taper sawn shakes have thicker butts, and this presents a more textured appearance. Taper-Sawn red cedar shakes fall between sawn shingles and split shakes. Both surfaces are sawn, but are not as precisely manufactured as shingles.
Cedar Shingles
Shingles have a smooth sawn backs and fronts. Shingles are produced by sawing blocks on a shingle machine, tilting the block each cut to manufacture tapered pieces and then trimming edges. Constructed from number 1 grade blue label or number 2 grade red label cedar shingles and trimmed for parallel edges with butts sawn at right angles.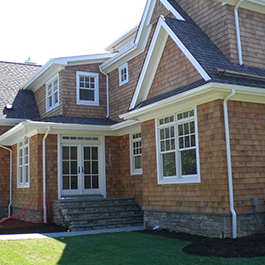 Cedar Siding
Sidewall Shingles – rebutted and rejoined, constructed from number 1 grade blue label or number 2 grade red label cedar shingles, trimmed for parallel edges with butts sawn at right angles. Offered in both sawn and sanded face textures, in natural, primed grey or white tint or you can custom order a tint of your liking.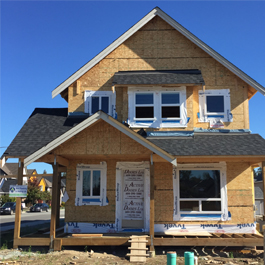 New Construction
New construction roofing projects are highly inter-dependent on many other elements surrounding the construction project. It is important to review all specifications and plan dimensions to ensure that proper cost and material coverage is achieved for the project. We analyze your building plans to ensure accuracy with each project, and offer input where needed for possible improvements to the design and cost of the roof, depending on the specifications needed by each of our clients.
Waterproofing
Waterproofing your building is a crucial part in creating a building envelope. This includes the roof, siding, foundation, windows and doors. Building structure waterproofing helps protect your property against damage resulting from moisture, dampness and water penetration. Even the smallest leak when neglected can lead to serious structural issues. The only way to keep the water out is to ensure proper sealing of joints, windows, doors and other access areas.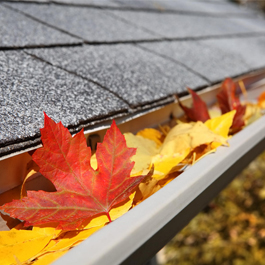 Roof Maintenance
Most people don't think about their roof until a leak appears. However, like other parts of your home and building, the roof requires ongoing maintenance year round. To prevent leaks, and identify minor problems before they become major costly problems. To maximize the life of your roof before you need to replace it. In Awe Roofing does home, building and strata maintenance and inspections for all properties and sizes. Don't wait till it's too late.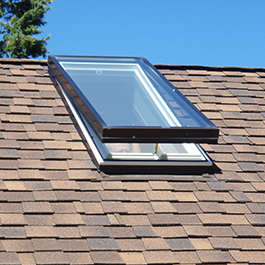 Skylights
Bring more sun to your life, by adding a skylight to your home. Not only will it bring natural light into your home, you will also save on your electricity bill. A good skylight adds light, spaciousness, and value to your home. So light up your life with a skylight! These are some of the types of skylights we install: dome skylights, solar tube skylights, skylight shades, out of the box skylights, and many other options available. All the skylights we install are energy-star rated products.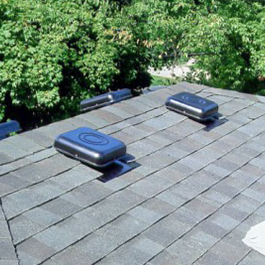 Roof Vents
Roof vents services and installation. Roof vents provide ventilation for roof shingles and attics in order to prevent excessive heat build-up. Excessive heat build-up can cause moisture to develop, which can lead to severe damage and leakage problems within the roof. Choosing the right roof vents, and the amount to install is dependent upon the kind of roof you have and the amount of space requiring ventilation. At In Awe Roofing we can provide installation of roof vents for almost any kind of roof, as well as roof vent repair, maintenance and cleaning. If you think you need new windows because they keep fogging up, are damp all the time, or your house is too hot in the summer or too cold in the winter, most of the time is, you may not have a vent, not enough vents, or too many! Call us and we can try to solve it for you.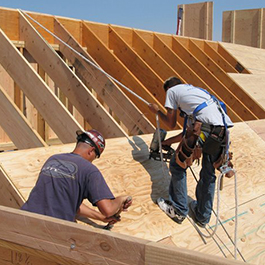 Roof Sheathing
Roof sheathing provides the main protection and insulation of your home or office. The stages and various materials used for sheathing a roof vary between different roofing styles, yet there are some frequent mistakes made that are generic among unprofessional or inexperienced roofers. Such mistakes include: insufficient fastening of roof sheathing, (this can lead to the collapse of a building during a windstorm), not differentiating between coastal and non-coastal fastener requirements, attaching sheathing upside down, not aligning the roof sheathing perpendicular to roof rafters as required, but parallel to roof edging, panels of sheathing not meeting in truss and/or rafter center and not staggering panels. And let's not forget, not nailing in the correct areas or nailing in nothing at all.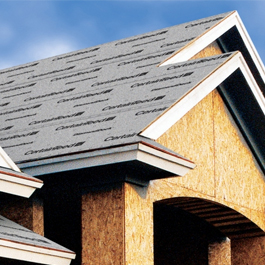 Roof Underlayment
All roofing materials that are built for low slope and steep slopes are considered water shedding devices. They are NOT "Water Proofing", even though many people are under the impression that they are. Because such roofing supplies for low slope or steep slopes are NOT WATER-PROOFING, it is imperative to create a secondary line of defence against water ingress into the structure. This second line of defence is generally the roofing underlayment that is installed below the primary roof covering. Almost all manufacturers make it mandatory to install underlay to get a manufacturer's warranty. That is why it is essential to install roof underlay.